Welcome to the Happy WINSday giveaway linky of 7/27/11 to 8/1/11! Drop by every Wednesday to add your giveaways to my linky list and/or to find giveaways to enter. Here are the rules:
Submitters are kindly asked to follow Measuring Flower via Google Friend Connect (under "My Friends" in the right sidebar). Drop me a comment with your URL and I'll follow back!
Every giveaway must be FAMILY-FRIENDLY.
Every giveaway must be hosted by a BLOG.
Leave a link that leads directly to the featured giveaway.
Be sure to leave the deadline for your giveaway.
Consider placing my Happy WINSday button on your blog (not required, but very nice).
For a directory of giveaway linkies, click
HERE
. Let me know if you have any linkies of your own to add (it includes blog hops too)!
Be sure to also pop by on Mondays for the MondayMingle Blog Hop, Tuesdays for the Twitter Tagalong Tuesday, Thursdays for the Alexa Drop Hop, and Fridays for the Friendly Facebook Friday hop!

Make sure to check out my
Current Giveaways
(click or find them listed in the right sidebar)!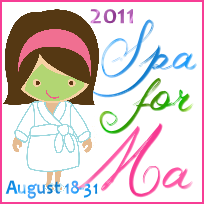 Still seeking participants for the
2011 Spa for Ma
!
Please contact me if you're interested!
Giveaway Linky