I am very excited to welcome you to the Momma's Jewels $339 Necklace Giveaway! This giveaway features an absolutely gorgeous necklace and it's here JUST IN TIME FOR MOTHER'S DAY! Read on to check out the details and to enter.
About Momma's Jewels

Stacy Rosenthal, the mommy to a 3-year-old and 5-month-old, was frustrated with the unending task of picking up a teething ring off the floor and brushing it off for her wee one. So she set to work to invent a convenient option to end this chore and ultimately founded Momma's Jewels. The resulting products are beautiful, fashionable necklaces that make mom feel stylish and special while keeping her teething baby happy and away from floor germs.
Momma's Jewel's Jewelry Features

Absolute Safety. Safety is Momma's Jewels priority. Each piece of jewely and its chain has been thoroughly testes to ensure strength and safety for baby chew.
Beautiful Design.

Each piece is quality constructed from sterling silver and fashioned in trendy styles for modern moms. The jewely is not only perfect for moms with teething babies, but also beyond that stage as regular fashion accessories.

Convenient Functionality. Every necklace is naturally cool to the touch, making it perfect to soothe baby's gums. They're also entertaining for babies and toddlers. And since it's around mom's neck, no worries about it falling to the ground and getting yucky.
Buy It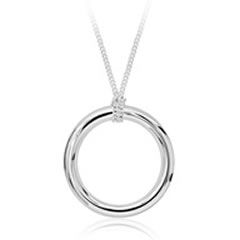 You can purchase Stacy's gorgeous necklaces and bracelets online at www.MommasJewels.com.
Win It

The Prize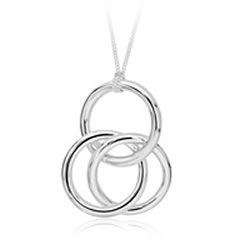 Momma's Jewels 3 Ring Sterling Silver Teething Necklace
$339 Value
How to Enter

This giveaway is being run using a Rafflecopter form. To use the form, log in using your Facebook account (make sure your primary Facebook email is one you can be reached by if you win) or your name and email. You can read more information about logging into the Rafflecopter form HERE. Your information will be kept completely confidential and safe.
Giveaway Rules
Each entry must be accomplished exactly as it is stated, including providing anything in the "Extra Info" field, for it to count.

You can perform each entry type ONE TIME ONLY unless otherwise specified.
If there is a "leave a comment" entry type, be sure the name you type in the comment's name field is EXACTLY the same as the name you use in the form (this is so I can verify your comment).
Make sure to leave a VALID email address in the Rafflecopter's email field so you can be contacted if you win (or ensure your Facebook account's primary email address is one you can be reached by).
The Deadline

Giveaway Ends
May 12, 2013
Open to U.S. Residents